Francis Bacon Artist Bibliography Mla
Picasso often diagrammed an itinerary of heterosexual engagement by mapping the female orifices and curves in a flattened Cubo-Surrealist style. Bacon specialized in blur and atmosphere; he captured the tumult of homosexual sex in motion by borrowing from photographs, film stills or images of other art, conveying a sense of athleticism and sweat, violence and tenderness, furtiveness and shame. Homosexual sex was a criminal act in Britain, where he lived most of his life, well into the 1960s.
The show, which originated at the Tate Britain last fall, has been slightly reconstituted and installed at the Met by Gary Tinterow, the curator in charge of 19th-century modern and contemporary art. It is freshest where it delves into Bacon's use of photographs, not only those clipped from magazines and books but also images he had taken of friends and lovers. He often blew up images and used their cut-out forms as templates. (You can see this especially with George Dyer, his handsome, distinctively profiled companion, whom he painted often in the 1960s and '70s.)
"Francis Bacon: A Centenary Retrospective" begins in full cry. First come the screeching fiends of "Three Studies for Figures at the Base of a Crucifixion," the triptych with which Bacon announced himself to the London art scene in 1944. Against bright orange grounds that would become something of a signature, gape-mouthed furies — part human, part monster, and one per canvas — foretell postwar deprivation, rage and existential doubt. The dogs of war are not going to be leashed anytime soon; the world itself is on the cross.
These overwrought creatures work better in movies, like "Alien." Their screams continue in the next gallery, where the open, dentally precise mouths gradually migrate to human heads, mostly from 1949, and the first of Bacon's famous, often glib screaming popes, after Velázquez, arrives. The Museum of Modern Art's "Painting" from 1946 is also here, encapsulating much of the Bacon repertory: matching slabs of meat that might be said to couple, a seated male, a half-hidden screaming face and the luxurious surface and color. Even so, his mastery was more than a decade away.
Only in the third gallery does this show dial back the hysteria and risk real emotion, in particular the tenderness passing between two men in "Untitled (Two Figures in the Grass)," from around 1952. Pale, soft-fleshed and naked, his back to us, one sits with his legs tucked beneath him, bowing his head over the other, who apparently lies in the grass, his presence indicated mostly as a pair of bent knees that are, ominously, faintly touched with red. Theirs is a sorrowing intimacy stolen amid a gale of blue-black strokes. The faint outlines of a bed and room hint at an imagined interior, a safe, private haven.
Bacon later said that he regretted having wasted so much time while young. Instead of learning his craft, he was often drinking, gambling, sleeping around and having a brutal affair with a violent, alcoholic, drug-addicted sadist named Peter Lacy that sometimes made his friends fear for his life.
This show concurs by bringing on more popes, along with screaming apes, slinking dogs and mute businessmen. Scant of surface and image, with glancing, uneasy brushwork, they imply a divided attention and a reliance on pictorial short cuts and ambiguities to disguise limited skills. Although they are some of Bacon's best-known works, they barely pass muster as paintings.
Yet the Met's exhibition disputes the notion that Bacon's art declined, indicating that it often improved as his colors brightened, his paint handling gained muscularity. It was equally important that he began to focus on people he knew and cared about, giving them faces that seem simultaneously masked, gouged out of wet clay and recognizably individual.
Bacon may have been saved by the physicality of van Gogh's art, as evidenced by the 1957 "Study for a Portrait of van Gogh VI," with its thick, troweled paint, raking light and a plowed field that resembles a butterflied slab of meat marbled with red and green. In the same room "Three Studies for a Crucifixion" from 1962 announces Bacon's maturity: in pulsations of red, orange and black we see two assassins; the bloody pulp of their victim, curled on a striped mattress; and a hanging side of beef — with human teeth — that suggests a saint's martyrdom.
In the show's second half Bacon paints from his life, his imagination or somewhere in between, uncoiling new, ambiguous narratives that were often enhanced by the expansiveness of the triptych format. These paintings may not always work, but it is rarely for lack of trying. Sex, both violent and not, takes place; crimes are committed; guts are spilled. Colors become electrifying, textures enrich. The curved shelf of space that becomes the norm circles around, implicating us as intimates, voyeurs or unwilling witnesses.
Often we seem to see people posing in the studio, fidgeting, ready to jump out of their skins (even though Bacon didn't paint from life, only from photographs). In "Two Studies for a Portrait of George Dyer," the subject sits near a canvas that is pinned with a nude picture of him, which is truer to Bacon's working method.
An especially fraught 1967 triptych that Bacon allowed to be named for T. S. Eliot's poem "Sweeney Agonistes" has two scenes of lovers on low platforms raised above grass-green carpet. They flank an interior in which a hideous partial carcass is propped up before a window. One imagines it as the remnants of a man who, from loneliness, has literally howled out his heart to the implacable black sea visible beneath a violet sky. Except that the violet plane is a window shade, a regal color commensurate with the sacrifice. Whatever Bacon's mangled, solitary or coupled beings meant to him, they starkly remind us that, while we look at the painting, others are dying, seizing up with loneliness or having sex.
I'm not sure that this show will do much to alter the polarities of opinion around Bacon; that will take much more curatorial precision and imagination. But it is always bracing to see his work and to realize that part of its energy derives from its refusal to go softly in art history. He reminds us that in the end very little about art is fixed, and that we should always be ready to turn on a dime.
Continue reading the main story
"An illustrational form tells you through the intelligence immediately what the form is about, whereas a non-illustrational form works first upon sensation and then slowly leaks back into the fact."
Synopsis
Francis Bacon produced some of the most iconic images of wounded and traumatized humanity in post-war art. Borrowing inspiration from Surrealism, film, photography, and the Old Masters, he forged a distinctive style that made him one of the most widely recognized exponents of figurative art in the 1940s and 1950s. Bacon concentrated his energies on portraiture, often depicting habitues of the bars and clubs of London's Soho neighborhood. His subjects were always portrayed as violently distorted, almost slabs of raw meat, that are isolated souls imprisoned and tormented by existential dilemmas. One of the most successful British painters of the twentieth century, Bacon's reputation was elevated further during the "art world's" widespread return to painting in the 1980s, and after his death he became regarded by some as one of the world's most important painters.
Key Ideas
Bacon's canvases communicate powerful emotions - whole tableaux seem to scream, not just the people depicted on them. This ability to create such powerful statements were foundational for Bacon's unique achievement in painting.
Biomorphic Surrealism shaped the style of Three Studies for Figures at the Base of a Crucifixion (1944), the work that launched Bacon's reputation when it was exhibited in London in the final weeks of World War II. The work established many of the themes that would occupy the rest of his career, namely humanity's capacity for self-destruction and its fate in an age of global war.
Bacon established his mature style in the late 1940s when he evolved his earlier Surrealism into an approach that borrowed from depictions of motion in film and photography, in particular the studies of figures in action produced by the early photographer Eadweard Muybridge. From these Bacon not only pioneered new ways to suggest movement in painting, but to bring painting and photography into a more coherent union.
Although Bacon's success rested on his striking approach to figuration, his attitudes toward painting were profoundly traditional. The Old Masters were an important source of inspiration for him, particularly Diego Velazquez'sPortrait of Pope Innocent X (c.1650) which Bacon used as the basis for his own famous series of "screaming popes." At a time when many lost faith in painting, Bacon maintained his belief in the importance of the medium, saying of his own working that his own pictures "deserve either the National Gallery or the dustbin, with nothing in between."
Most Important Art
Three Studies for Figures at the Base of a Crucifixion (1944)

Three Studies launched Bacon's reputation in the mid 1940s and shows the importance of biomorphic Surrealism in forging his early style. Bacon may have originally intended to incorporate the figures in a crucifixion, but his reference to the base of such a composition suggests that he imagined them as part of a predella, the scenes at the bottom of a traditional altarpiece. The twisted bodies are all the more frightening for their vaguely familiar human-like forms, which appear to stretch out toward the viewer in pain and supplication. The perspective lines in the background create a shallow space, alluding to captivity and torture. The figures are based upon the Furies, goddesses of revenge from Greek mythology that play an important role in the Oresteia, a three-part tragedy by Aeschylus. Bacon may have been drawn to the play's themes of guilt and obsession. The piece profoundly influenced images of the body in post-war British art.

Read More ...

Francis Bacon Artworks in Focus:
Francis Bacon Overview Continues Below
Biography
Childhood
Born in Dublin, Francis Bacon was named after his famous ancestor, the English philosopher and scientist. His father, Edward, served in the army and later took a job in the War Office during World War I. In an interview with critic David Sylvester, Bacon attributed the connotations of violence in his paintings to the turbulent circumstances of his early life. A British regiment was stationed near his childhood home, and he remembered constantly hearing soldiers practicing maneuvers. Naturally, his father's position in the War Office alerted him to the threat of violence at an early age. Returning to Dublin after the war, he came of age amidst the early campaigns of the Irish nationalist movement.
Young Francis had little formal education due to his severe asthma and the family's frequent traveling for Edward's post. Bacon's mother, Christina, lived the life of a socialite, and with his father away at work, Francis was often left to his own devices. Although he had four siblings, Bacon had a close relationship with his nanny, Jessie Lightfoot, who later came to live with him in London.
Family relations became more abusive as Bacon dealt with his emerging homosexuality - the young artist was whipped by his father. He was finally expelled from the house in 1926 after his father caught him trying on his mother's clothing. Surviving on a small allowance, Bacon lived the life of a vagrant, traveling around London, Berlin, and Paris. Despite his father's hopes, the change of scenery only freed Bacon to further explore his sexual identity; his time in Berlin proved particularly important in this regard and was later remembered by him as one of emotional awakening.
Early Training
Bacon moved into a London apartment in the late 1920s and became involved with interior and furniture design. One of his patrons, the artist Roy de Maistre, became a mentor to Bacon and encouraged him to take up oil painting. Bacon modeled his early work after Picasso and the Surrealists, whose work he had seen on a trip to Paris. In 1933, Bacon exhibited Crucifixion, a skeletal black and white composition that already radiated the overtones of pain and fear that would become typical of his later work. The painting was simultaneously published in Herbert Read's book Art Now, and was quickly purchased by Sir Michael Sadler. Encouraged by his success, Bacon organized an exhibition of his own art the following year, but it received little attention. His paintings were also surveyed for inclusion in the International Surrealist Exhibition, organized by Herbert Read, but were rejected for not being surrealist enough. Discouraged, Bacon returned to a drifter's lifestyle and only painted sporadically between 1936 and 1944. He destroyed the majority of his work from before 1943, and only fifteen pieces from this early period have survived.
- - - - - - - - - - - - - - - - - - - - - - - - - - - - - - - - - - - - - - - - - - - - - - - - - - -
Francis Bacon Biography Continues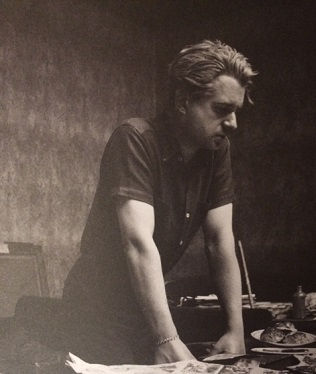 Due to his asthma, Bacon was unable to join the armed forces during WWII. He was accepted as a member of the Air Raid Precaution sector, which involved non-military search and rescue, only to be discharged when he fell ill from the dust and rubble. "If I hadn't been asthmatic, I might never have gone onto painting at all," he admitted. After the war, he took up painting with a renewed passion, regarding Three Studies for Figures at the Base of a Crucifixion (1944) as the true beginning of his work. The long necks, snapping mouths and contorted bodies featured in the painting express horror and suffering, a forceful commentary on the aftermath of the war. Bacon modeled the figures after photos of animals in motion, showing an early interest in the movement of the body that became a strong theme in his later painting. During its exhibition at Lefevre Gallery critics were mostly shocked by the blatant imagery, but the numerous reviews put Bacon into the spotlight.
Mature Period
His breakout success at the 1944 exhibition gained him further opportunities to show with Lefevre. Graham Sutherland, a friend and fellow exhibitor, also recommended him to the director of Hanover Gallery, where Bacon had his first solo exhibition in 1949. For this show Bacon painted a series entitled Heads, significant for being the first series to introduce two important motifs: the first was the scream, derived from a film still drawn from Sergei Eisenstein'sBattleship Potemkin in which an injured schoolteacher is shown screaming (probably in pain); the second is Diego Velazquez'sPortrait of Pope Innocent X (c.1650), a painting Bacon only knew through reproductions (and which he would always maintain never to have seen in the original). The Heads series also made greater use of enclosing devices that suggest a pervasive sense of claustrophobia and anxiety, in this instance a shallow cage-like outline which Bacon had also employed in Three Studies from 1944.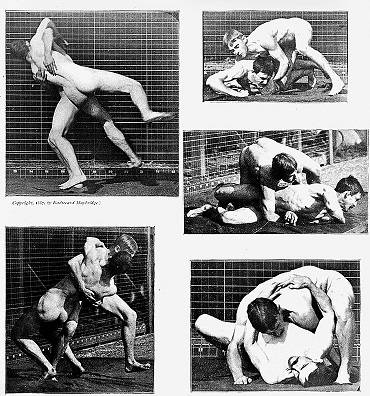 In 1953, Hanover held an exhibition of Bacon's paintings that included Two Figures, a depiction of two men embracing in bed, an image that created a huge scandal. The composition was based upon photographs of wrestlers taken by the Victorian photographer Eadweard Muybridge (1830-1904). Bacon preferred to work from photographs, relying on his friend John Deakin to take pictures of his subjects, but he was fascinated by Muybridge's attempts to capture and record bodies in motion. Bacon kept a collection of Muybridge's books in his studio as a constant source of reference, and even suggested that his intensive study of these sequential photographs triggered his own interest in working in series.
Bacon's tendency to derive inspiration from personal experiences also attracted him to portraiture. He often painted close friends (Lucian Freud, Isabel Rawsthorne, Michel Leiris), and the results convey a striking emotional and psychological intensity. One of Bacon's most famous subjects was his friend and lover George Dyer, who he met in 1964. During the course of their relationship, Bacon executed numerous portraits of Dyer that juxtaposed a strong musculature with a feeling of vulnerability, as in Portrait of George Dyer Crouching (1966), suggesting an affectionate yet protective attitude toward the younger man. Dyer suffered from alcoholism and episodes of depression, ultimately committing suicide on the night before Bacon's first retrospective in France in 1971.
Late Years and Death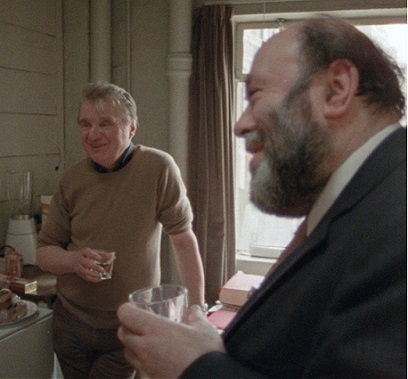 After the Paris exhibition Bacon moved increasingly toward self-portraiture, claiming, "people around me have been dying like flies and there is nothing else to paint but myself." Continuing to work steadily, he also completed a number of paintings in tribute to Dyer's memory. Many of these took the form of large format triptychs, including the well-regarded "Black triptych" series that recounted the details of Dyer's passing. In 1973, Bacon became the first contemporary English artist to have a major exhibition at the Metropolitan Museum of Art in New York. His work was exhibited internationally throughout the later years of his life, including retrospectives at the Hirshhorn and the Tate Gallery. In the mid 1970s, Bacon met John Edwards, who replaced both Dyer and Deakin as Bacon's constant companion and photographer. In his last years, Bacon retreated from his formerly boisterous social life, focusing on his work and the platonic relationship with Edwards. He died of a heart attack in Madrid at the age of 81.
Legacy
Bacon's unique interpretations and the intensely personal nature of his work make it difficult to visually trace his influence in contemporary art. Nevertheless, his paintings have inspired some of the most standout artists of this generation, including Julian Schnabel and Damien Hirst.
John Edwards, who inherited the estate, played an important role in promoting Bacon's work until his death in 2003. He was responsible for the donation of Bacon's studio to the Hugh Lane Municipal Gallery of Modern Art in Dublin, and this was turned into a permanent exhibition and research archive.